Mumbai Local presents film and theatre actress Sonali Kulkarni in a talk titled 'Lady Macbeth, Mahadevi & Me'...
March 5, 2014 15:10:03 IST
MTG editorial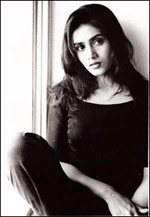 Lady Macbeth is a dream role for any actress, and Sonali Kulkarni got the opportunity to play this fascinating character in a Telugu film. In this presentation, Sonali will share her process- how she 'stumbled and fumbled looking for Lady Macbeth aka Mahadevi', and in the process discovered as much about herself as the character. An insight into a an actress' process, and into the various types of triggers that channel creativity.

This talk has been organised by Junoon as part of their Mumbai Local initiative.

Date: Sunday, March 9 2014
Time: 5 pm
Venue: Dr Bhau Daji Lad Museum, Rani Baug, Veer Mata Jijabai Bhonsle Udyan, Dr Babasaheb Ambedkar Marg, Byculla (E)

Entry Free.
- See more at: http://www.mumbaitheatreguide.com/dramas/Articles/14/mar/05-film-and-theatre-actress-sonali-kulkarni-in-a-talk.asp#sthash.agwSlb4j.dpuf
http://www.mumbaitheatreguide.com/dramas/Articles/14/mar/05-film-and-theatre-actress-sonali-kulkarni-in-a-talk.asp